Newest, beautiful, single women now added for week of Wednesday, 20 September, 2023 - Tuesday, 26 September, 2023
Your opportunities here are truly worldwide. Explore our site deeply to see how you can realize that!
How to Meet Asian Brides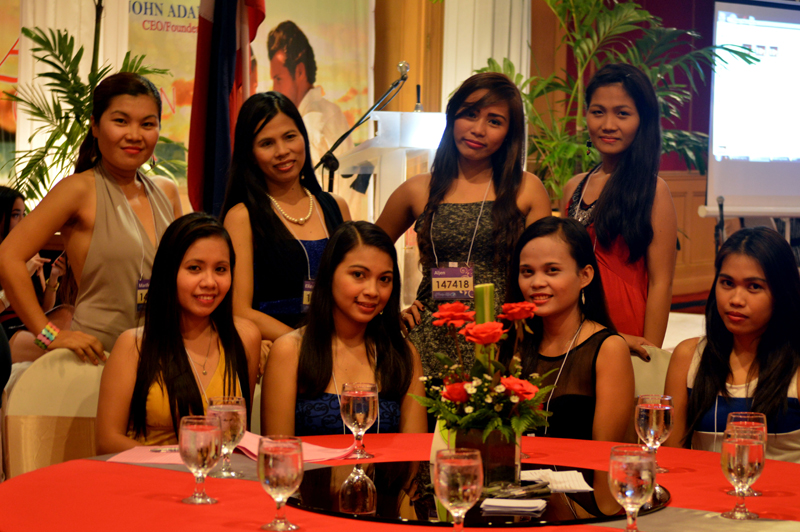 Anxious to meet the perfect Asian bride? While you may be several hundreds of miles away, there's no need to fret as our matchmaking service will be the bridge that will bring you together! No matter how far, we have you covered. Hundreds of beautiful Asian brides are waiting just for you! All it needs is a click of a button and you'll be on your way to meeting the perfect Asian bride.
How to Use Our Services to Meet Sincere Asian Brides
Using our services has never been this easy. Once you are on our site, register for a FREE account and start browsing hundreds of our Asian bride profiles. Once you have found the right woman for you, you can then choose to pay to take advantage of more of our services. These services include romance tours, social events, and more. Grab this opportunity now to meet beautiful Asian ladies even when they are halfway across the globe!
Register for FREE Today
Taking advantage of our services is as easy as 1,2, 3. All you have to do is visit our website and sign up for a free account. Once you are registered, you can then start browsing the profiles of hundreds of Asian women who are seeking foreign men like yourself!
NO credit card required and absolutely NO OBLIGATION in any way!
All registered members have free access to all photos in every lady's profile.
Set Your Preferences and Online Profile (Optional)
Once you have registered for an account, you can personalize your account and set preferences such as choosing specific locations. This allows you to filter the list of Asian bride options to those that match the location of your choice. You can also personalize your profile by uploading a photo and posting a short description of yourself. This enables women to get to know a bit about you, and who knows, they might just show interest in you and will want to get to know you a lot better!
Start Receiving Letters from Women (Optional)
After you have set up your profile, the option to receive letters will be available. This is a service that allows the women on our site to send you letters introducing themselves to you. You can opt out of this service by turning it off on your account control panel.
You have the power to choose who you want to communicate with, giving you a hassle-free experience whilst being able to enjoy a good conversation with the ones you do choose to communicate with.
Several Options to Communicate with the Women
Our matchmaking services offers several ways for you to communicate with the woman of your choice.
Personal Letter

With our personalized express mail service, you can choose to send her letters that will personally be delivered by our staff. We are proud to say that we have several offices worldwide, which means you can send your letter just about anywhere in the world.

Over the Phone

If you fancy being able to talk to the woman you want, you can opt to use our phone service to talk to her. Nothing beats being able to hear the sound of her voice while sharing a good conversation.

External Communication

Other forms of communication is always available for you to use. Be it email, apps like Skype, etc., you can always choose to communicate with other forms of media. However, it is important to note that since we are a US-based company, we are covered under US Federal law and we are required to operate under IMBRA (US International Marriage Broker Regulation Act of 2006) compliance. This means that any personal information required for external communication will need consent from both parties before we can legally give it out to you.
* Send her a gift! When you feel like the gesture of giving her a gift will help strengthen your connection, you can always count on us to have your gift delivered to the woman you like. You can choose from our wide selection of gifts to give and our staff in Asia will gladly have it delivered to her. What's more, you can choose to get a picture of her receiving your special gi
Communicate with Women You're Interested in
If you did things right with your profile, you should notice that many sincere Asian brides on our site will want to communicate with you, and well, having to communicate with multiple women at once could sometimes be a hassle. You need not worry though, as you have the option to communicate only with profiles of your choosing.
You can choose to pay only for the services that you need. This "pay as you go" service can help you manage your account and not have to pay for services that you do not need at the moment. You can also choose to deposit funds on your account to pay for the services. This deposit is refundable upon request.
Take advantage of our premium platinum membership package and gain even more control over your profile. With the premium platinum membership, you will be able to unlock discounts when sending/receiving letters as well as when opting to use our phone service. You will get a 25% and 33% discount for these services respectively when you opt for our premium platinum membership!
You do have the choice to cancel the membership at any time. Once you cancel your membership, you can still choose pay as you go. Also, you will always have FREE access to your account and browse new Asian bride profiles.
Meet an Asian Girl in Person
It is no surprise that the best way to find an Asian bride is to personally meet one. This is exactly why one of our most popular services is our romance tours. With this service, you will be able to meet the Asian woman of your choice in person and be able to see them up close! This is a chance of a lifetime that you shouldn't miss! You can choose a group singles' tour or an individual singles' tour.
Group Singles' Tour

Our group singles' tour features hundreds of Asian singles for you to meet up close and in person! It takes place several times each year so keep posted for our next Asian Bride tours schedule!

Individual Singles' Tour

While some men want to be in a group to meet hundreds of beautiful women, some men would prefer to be in an individual tour where you get to choose the woman that you want to take on the tour and have our staff assist you with your romantic date.
Whether you choose to be in a group or not, you should grab this opportunity now to join us for our next singles' tour! Meet Asian women now!
Newest, beautiful, single women now added for week of Wednesday, 20 September, 2023 - Tuesday, 26 September, 2023
You have to meet the women to marry them! What other international dating site offers you numerous opportunities to do that?